Featured Item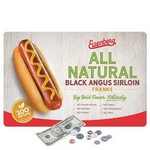 Vynex® Peel&Place® Ultra Thin remo...
10"x15"x.015"-Vynex® Peel&Place® Ultra Thin removable/repositionable adhesive based Counter Mats are a highly visible, inexpensive way to deliver your message on counter tops everywhere. These low-pro...
$3.62 - $10.10
Welcome!
Seeco Promotional Group is a Solution oriented business, founded in 1980 with offices from the West to the East Coasts We offer a full range of promotional products and premiums from over 5000 factories worldwide. Additionally, we set up and manage incentive award programs. Promotional products are a $19 billion industry This segment of physical advertising is a cost effective and memorable method to target and reach customers and employees.
Besides offering marketing solutions, we assist in making appropriate and cost effective promotional product choices, increase your visibility and aid in your advertising needs. YOU HAVE CHALLENGES,WE HAVE SOLUTIONS!!
WEST COAST

Contact Larry Spivack
Email:seeco@pioneer.net
Tel:[800]-859-5719
Tel:[503]-590-9130
Fax:[888]-291-2477
Fax:[503]-590-9134


EAST COAST

Contact Sheryl Braun
Email:seecopromo@aol.com
Tel:[917]-743-7109